In order to enhance the size of your images, the initial step is to upload the desired image by clicking on the Select Image option.
Choose noise reduction from None, Low, Medium, and High. Choose one of them and jump to the scale and move it from 1x to 10x.
Check whether you selected the right options or not, and after checking, it's time to finalize the process by hitting the Convert Now button.
Get the increased sized image in excellent quality, but you need to choose the image format before it. Select the correct format.
Waifu2x Features
---
You must check out the specialties of our tool so that you can go for it without any hesitation:
Easy to Use

Waifu2x is a pretty easy-to-use tool with which you can increase the size of your pixel arts within minutes. Even kids can use it for resizing the images in the desired format and image quality.

Instant Image Upscaling

You can double the size of your images and decrease the noise as well with just the blink of your eyes. Waifu2x resize your images instantly with less effort and without losing the quality.

Upto Waifu10x Image

We stand out among the mob, and we give you the freedom to choose up to 10X. So get set ready to enhance the appearance of your images with our Waifu2x tool.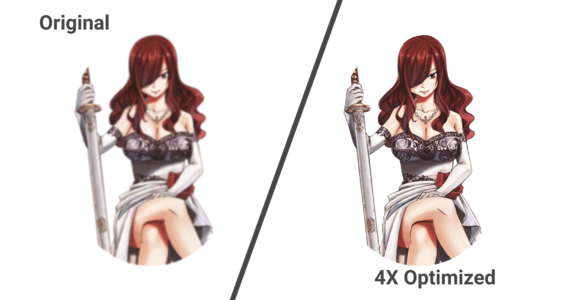 What is Waifu?
---
Waifu term is used in Manga, Anime, and Video games for fictional girls and women. Waifu means a female character has romantic and unique qualities to whom everyone wants to marry.
Waifu is a Japanese word that is derived from the English phrase Wife. In short, Waifu is a fictional female character that has affection qualities.
What is Waifu2x?
---
Waifu2x is simply an image resizer and noise reduction tool to increase the size of their images effortlessly. The developer makes Waifu2x with reliable technology of image processing and artificial intelligence.
Just upload an image, select desired options, and get incredible pictures within minutes. So, folks, go ahead and upscale your tiny and noisy images into beautiful ones.